To cross the road or not to cross the road.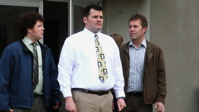 'Red Tape' is set in a dysfunctional corporate world where an edict has determined that workers may not cross the road unless they first seek permission.
Will Oscar defy the new rules and make up his own mind?
This five minute comedy directed by Michael Korican mashes up corporate culture and the classic 'Why did the chicken cross the road?' joke.
'Red Tape' stars Morgan Cranny and Ernest Warnielius.